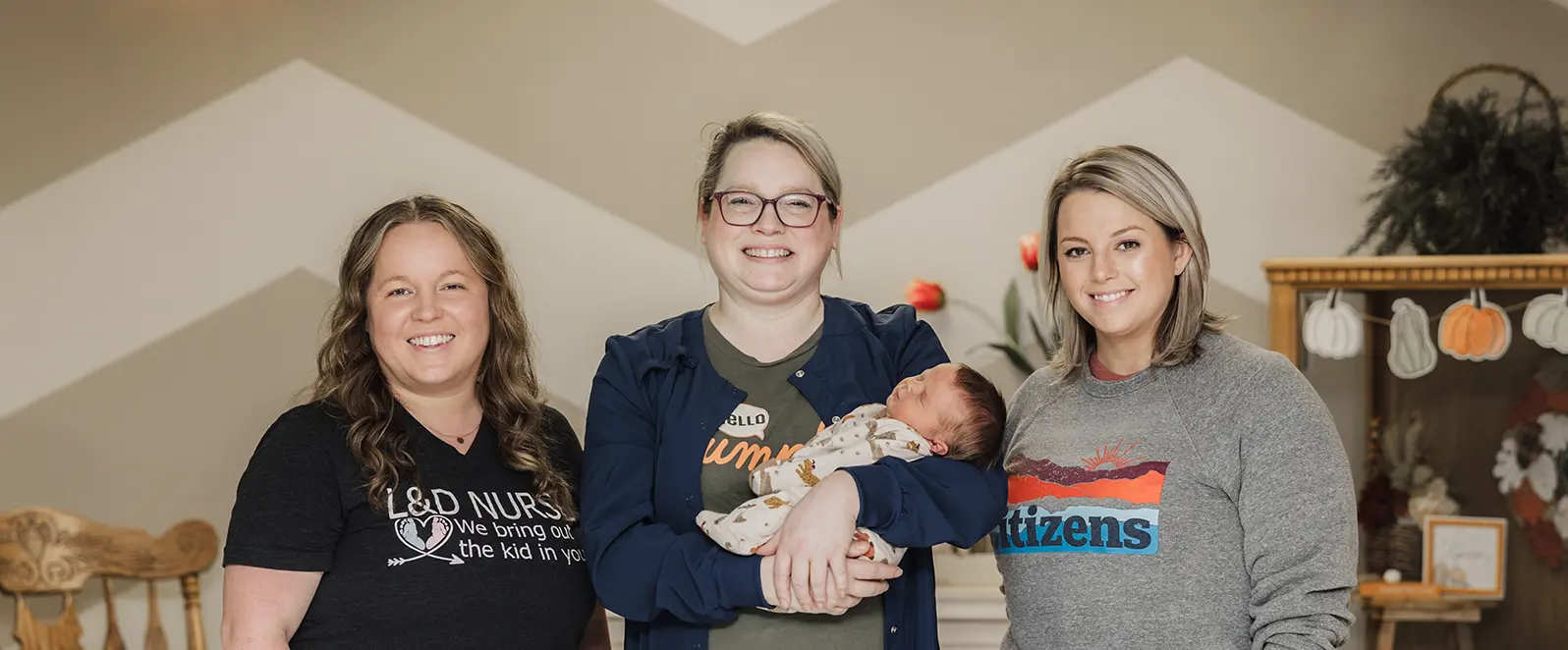 Birth Place
Our obstetrics (OB) wing is specially designed for the health, comfort and safety of you and your baby. State-of-the-art facilities make the birth of your baby the most joyous experience in your life. The Birth Place gives expectant mothers a comfortable, caring environment in which to have their babies.
With large labor and delivery rooms, mothers, fathers and families can eagerly await the arrival of their newborns together. The nursery, located across from the labor and delivery rooms, allows new mothers an opportunity to rest after delivery.
CMH Birth Place Services
The Birth Place combines state-of-the-art facilities with family-centered maternity care. This combination makes your pregnancy and the birth of your baby the most joyous experience in your life.
Babies can stay with their mom or in the nursery. Either way, you can rest assured that you receive the best care possible.
Our staff works closely with the physicians at:
Bolivar Family Care Center
Dallas County Family Medical Center and Walk-In Clinic
Humansville Family Medical Center
El Dorado Springs Medical Center and Walk-In Clinic
Willard Medical Center and Walk-In Clinic and
CMH OB/GYN and Pediatric Clinic
The Birth Place staff are dedicated to giving you the care and support you need during this special time.
Educational Classes
CMH recognizes the important role that family members play in preparing for and caring for a new family member. The Birth Place offers a variety of special programs and services before, during and after the birth of your baby. A series of childbirth education classes provides information about pregnancy, labor and delivery, breastfeeding, baby care, and safety and security.
Our free classes give you the information you need on the process of childbirth. They prepare you to choose the best available options. Learn ways to cope with labor. Practice breathing and relaxation techniques and discuss the role of your labor support person(s).
Available classes include:
Childbirth, The Big Picture
Baby Basics
Breast Feeding Basics
To request a class schedule and register for childbirth education courses, call 417-328-6302 or visit the Birth Place Facebook page.
LDRP Rooms
The Birth Place has six labor, delivery, recovery and post-partum (LDRP) rooms. They allow expectant mothers to receive all their services in one room — a private, relaxed environment with family for support. Overflow rooms are also available for moms and babies.
Our rooms are equipped with modern equipment and monitors, yet remain comfortable. Each suite has an adjustable labor bed, private bath, walk-in shower, TV/DVD and sofa that turns into a bed.
CMH Home Medical Equipment
CMH HME offers a variety of products for new moms and babies. Ask your nurse for more information. Available products include:
Medela breast pump and accessories
Lanolin cream
Compression hose/socks/tights
Maternity belts
Bili blanket rentals
Enteral feeding supplies and nutrients
Car Seat Safety
CMH has staff members with car seat certifications who can provide professional car seat evaluation for patients upon request. On discharge, we will assist patients with buckling their car seat and ensuring straps are snug against the infant.
CMH Birth Place Virtual Tour
Learn more about the CMH Birth Place in this virtual tour.
A 'Birthing Friendly' Hospital
Citizens Memorial Hospital is a "Birthing Friendly" hospital, as shown on Medicare's Care Compare website. CMH participates in the Missouri Hospital Association's Missouri Perinatal Quality Collaborative. The collaborative supports birthing organizations, providers and stakeholders in maternal and infant health. CMH implements evidence-based care to improve maternal health.
Pre-Admission
We recommend that you pre-admit early in your pregnancy for your hospital stay. You can do this by visiting the admissions office at Citizens Memorial Hospital in Radiology/Main Registration. You can also pre-admit over the phone by calling 417-328-6555.
Patient Resources
Hospital Packing List — Download this printable checklist of what to pack for mom, dad and baby for the big day.
CMH Patient Portal — Secure online access to your health information from your computer or smartphone.
Patient Rights — Be aware of your rights and responsibilities as a patient and consumer of our services.
Online Bill Pay — Our secure online bill pay service gives you a safe and convenient option for paying your bill.
Patient Comments
All patient satisfaction ratings are submitted by actual patients and verified by an independent patient satisfaction company, National Research Corporation. National Research Corporation provides the technology to display ratings and comments on our provider profiles and practice pages.