FOR IMMEDIATE RELEASE
Patrice Melton retiring after 36 years at Colonial Springs
Colonial Springs Healthcare Center Activities Director Patrice Melton is retiring after 36 years of service. Melton started working at Colonial Springs in 1986, 10 years before CMH took ownership of the skilled nursing facility. Her last day is Aug. 5, 2022.
FOR THE MEDIA
Contacts:
Tamera Heitz-Peek
417-328-7245
theitz@citizensmemorial.com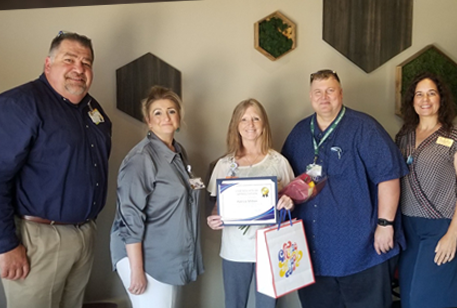 "It has been a privilege working with Patrice," said Jessica Rogers, Colonial Springs administrator. "Her dedication to her residents, colleagues and community is most admirable. She will be sorely missed, not only here at Colonial but throughout the long-term care community she has served so faithfully. Congratulations on a standout career with more than 35 years in one facility!"
Melton is a therapeutic recreation specialist and certified dementia practitioner. She holds a Bachelor of Science in therapeutic recreation from Slippery Rock University of Pennsylvania.
According to Rogers, Melton has been responsible for meeting the residents' social, cognitive, spiritual, physical and emotional needs on a daily basis during her time at Colonial. She has been a fixture in the Buffalo community and has worked with community volunteers and businesses to help provide the best activities for the residents and families of Colonial Springs.
"Patrice has been a huge part of the success of Colonial over the years," said Tim Francka, CMH administrative director of long-term care. "She was a very positive leader in the early days of CMH being involved in the operations in the Buffalo community. We will miss her leadership across the system. Patrice has led the best practice meetings of our activity directors and programs across all facilities. She is such a special person and leader and we wish her well in wherever her future endeavors take her."  
Missouri Health Care Association District 4 recognized Melton's work and contributions to MHCA. Melton has been the MHCA Golden Age Games coordinator for Bolivar, Monett and Mountain Grove for the last 12 years and she has been the lead instructor for the MHCA Activity Director Workshop for the last 10 years. The association recently recognized her with a certificate, flowers, card and small gift of appreciation.
"Patrice will be on speed dial on my phone for all her knowledge and experience with the district activities," said Roy Pace, MHCA District 4 Representative. She will be greatly missed by this association. We wish her well in her retirement!"
If you would like to show your appreciation and thanks to Melton, you may send thank you notes to Colonial Springs Healthcare Center, 750 W. Cooper St., Buffalo, MO 65622. If you have questions, call Rogers at 417-345-2228.
Pictured from left to right: Tim Francka, CMH Administrative Director of Long-Term Care; Anna Michael, Administrator of NHC West Plains and District 4 Secretary; Patrice Melton, Activities Director at Colonial Springs Healthcare Center; Roy Pay, Administrator of Copper Rock in Rogersville; and Deanna Beckenholdt, Administrator of Sunterra in Springfield.
July 25, 2022
Hospital 417-326-6000
Infocenter 417-328-6010, or 1-888-328-6010
1500 North Oakland, Bolivar, Missouri 65613
© 2023 Citizens Memorial Healthcare