McBratney awarded MHCA Administrator of the Year
The Missouri Health Care Association named Lake Stockton Healthcare Facility administrator, Chris McBratney, as the 2022 David Duncan Administrator of the Year at the recent 74th annual MHCA Convention in Branson.
With more than 300 facility members, MHCA is Missouri's largest association of licensed, long-term health care, residential care and assisted living facilities.
McBratney has been the administrator of Lake Stockton Healthcare Facility since 2019 and previously served as the administrator of Ash Grove Healthcare Facility for 18 years.
With more than 28 years of health care experience and licensed as a nursing home administrator, McBratney also serves as the administrative director of long-term care for three Citizens Memorial Health Care Foundation long-term care facilities including Ash Grove Healthcare Facility, Community Springs Healthcare Facility and Lake Stockton Healthcare Facility.
McBratney has been a member of the MHCA board of directors since 2000. He serves as the association's secretary and was reelected for a second term at this year's convention.
Nominated by Lake Stockton Healthcare Facility leadership, the team wrote about McBratney's caring acts for employees, advocacy and innovation for resident rights and maintaining the facility as their home, and his leadership, guidance and empowerment of staff to do the right thing, always.
"Chris has a commitment to excellence and is a real champion for his residents and staff. This prestigious award recognizes Chris for his dedication, compassion and always going the extra mile, which was especially challenging during the pandemic," says Beverly Derrickson, chief operating officer for CMH Foundation.
Lake Stockton Healthcare Facility is a 90-bed skilled nursing facility that includes rehabilitation services provided by full-time, in-house therapists and a 30-bed memory care unit designed to meet the specific needs of individuals with Alzheimer's disease and other dementia. Opened in April 2019, Lake Stockton has one of the top occupancy percentages for skilled nursing facilities in southwest Missouri.
For more information about
Lake Stockton Healthcare Facility
, go to citizensmemorial.com or call
417-276-5126
.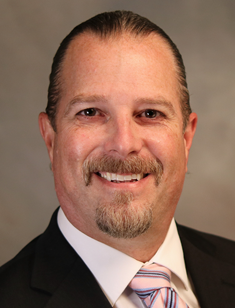 Chris McBratney