Maddie Prosch, RN named December 2021 DAISY Award for Extraordinary Nurses winner
Maddie Prosch, a registered nurse with Citizens Memorial Hospital's
Willard Medical Center
and
Walk-In Clinic
in Willard, was named the December 2021 CMH DAISY Award for Extraordinary Nurses winner.
Prosch earned her RN degree in 2021 from Cox College, Springfield, and worked in a hospital emergency room in Springfield for five months before joining CMH Willard Medical Center to care for walk-in clinic patients.
Prosch was nominated for the DAISY Award by a patient for going above and beyond patient care. The patient explained in the nomination that Prosch had cared for her and her elderly and diabetic mother at the clinic. The daughter told Prosch her mother does not hear very well and Prosch understood and accommodated her mother while still treating her with respect.
"She was amazing with my mom. From the moment I got her inside [the clinic], Maddie spoke slowly and directly toward mom so she could hear her. She was very thorough in her evaluation questions, but was so kind. When she took mom's vitals she explained each thing she was doing and handled my frail mother with such gentleness, it truly warmed my heart. She treated mom like she was her own grandmother."
The nomination also described how even after the appointment Prosch went above and beyond to ensure the patient had what she needed. After the appointment medications were called into a pharmacy and there were difficulties surrounding picking up the medication. Prosch worked with the daughter and the pharmacy throughout the evening to ensure they received the medication needed in a timely manner.
"Maddie went above and beyond to have the physician call [the pharmacy] and talk with them. She knew it was vital to get mom started on that medication immediately… I just can't thank this facility and Maddie enough for their personal care shown to my failing mother," said the patient in the nomination.
"It's hard to put into words what it means to receive the award," said Prosch. "The biggest thing is just seeing the impact we have on peoples' lives--that's why I wanted to be a nurse is to make their lives better. The award is fantastic, but doing my job and knowing that I'm appreciated is more than enough."
Prosch also feels supported by her clinic co-workers. "I like how it feels like we are all a family. Big hospitals are fun and fine, but being here everyone is close-knit. You know everyone and they are all always willing to help and have your back no matter what," said Prosch.
About the DAISY Award
DAISY is an acronym for Diseases Attacking the Immune System. The DAISY Award was established by the DAISY Foundation in memory of J. Patrick Barnes who died at 33 of Idiopathic Thrombocytopenia Purpura (ITP), an auto-immune disease.
The Barnes Family was awestruck by the clinical skills, caring and compassion of the nurses who cared for Barnes, so they created this international award to say thank you to nurses everywhere.
CMH implemented the DAISY Award program in January 2019 to recognize their own extraordinary nurses. Each month a CMH or Citizens Memorial Health Care Foundation nurse will be presented with this recognition.
If you or someone you know would like to submit a CMH DAISY Award nomination, go to: http://bit.ly/2vwPyGw. For more information about the DAISY Award and Foundation, visit www.daisyfoundation.org
Photo: Maddie Prosch, RN, with CMH Willard Medical Center and Walk-In Clinic, is the recipient of the December 2021 CMH DAISY Award.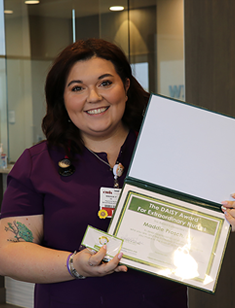 Maddie Prosch, RN - December 2021 Daisy Award winner