FOR IMMEDIATE RELEASE
Lisa Stokes, RN named winner of the April 2022 DAISY Award for Extraordinary Nurses
Lisa Stokes, a registered nurse with Citizens Memorial Hospital's Gastroenterology Clinic, was named the winner of the April 2022 CMH DAISY Award for Extraordinary Nurses.
FOR THE MEDIA
Contacts:
Tamera Heitz-Peek
417-328-7245
theitz@citizensmemorial.com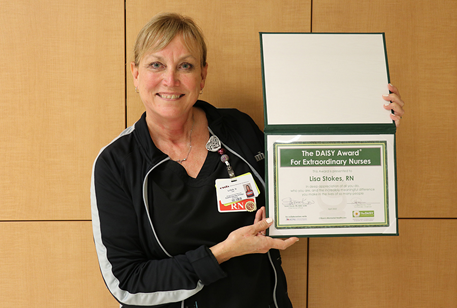 Stokes earned her nursing degree in 1986 from Burges School of Nursing (now Cox College), Springfield. She has been a nurse for 36 years, working at numerous health care facilities, and in 2005 she began working for CMH.
She was nominated for the DAISY Award for going the extra mile to ensure her patient received the necessary care.
"Wow, she might have saved my husband's life," the nomination stated. "She listened, she acted and she cared!"
The patient explained in the nomination that she was concerned for her husband's health and needing help in getting him the care he needed.
"I knew we shouldn't go home, but it was Friday and everyone was busy. Lisa was busy, but she acted," the nomination stated. "Lisa heard me and took the time to contact the doctor and get the orders he needed. Then she met with us and explained the situation and pushed my husband's wheelchair into the cold and the snow to our truck so he could get to the hospital. Lisa, you are my hero! Thank you."
Stokes said the award means a lot to her "because making someone feel the way that I was able to make them feel is what it's all about."
She also spoke of how much she appreciates working at CMH in a family-oriented environment with her co-workers, who also are her friends.
"It's a great place to work, very family-oriented as you can see by all these friends that turned out to support me today," she said. "It makes me feel very special."
Stokes said one of the greatest things about working at CMH is that it is a "very close-knit family." 
About the DAISY Award
DAISY is an acronym for Diseases Attacking the Immune System. The DAISY Award was established by the DAISY Foundation in memory of J. Patrick Barnes who died at 33 of Idiopathic Thrombocytopenia Purpura (ITP), an auto-immune disease.
The Barnes Family was awestruck by the clinical skills, caring and compassion of the nurses who cared for Barnes, so they created this international award to say thank you to nurses everywhere.
CMH implemented the DAISY Award program in January 2019 to recognize their own extraordinary nurses. Each month a CMH or Citizens Memorial Health Care Foundation nurse will be presented with this recognition.
If you or someone you know would like to submit a CMH DAISY Award nomination, go to: https://cmhbolivar.info/DAISY. For more information about the DAISY Award and Foundation, visit www.daisyfoundation.org
Photo: Lisa Stokes, RN, with CMH Gastroenterology Clinic, is the recipient of the April 2022 CMH DAISY Award
July 01, 2022
Hospital 417-326-6000
Infocenter 417-328-6010, or 1-888-328-6010
1500 North Oakland, Bolivar, Missouri 65613
© 2023 Citizens Memorial Healthcare