First cohort completes CMH nurse apprenticeships
Four Bolivar Technical College students graduating in December 2022 are the first cohort to complete Citizens Memorial Hospital's new LPN/RN apprenticeship program.
"I am so proud of these students and am excited to see them working for CMH after graduation," said Heather Mills, MSN, RN, clinical coordinator at CMH. "They have been able to gain additional experience while also being paid for doing their clinicals."
The four students — Rachael Hargus, Adam Kinnard, Chanceler Pemberton and Taylor Townsend — recently graduated and soon will be taking the National Council Licensure Examination (NCLEX) to become licensed practical nurses. They began as apprentices in June.
"It offered the perfect opportunity to be able to work and show the community what I was made of," Pemberton said. "It is a good program to see where you want to work when done with school."
The apprentices gain experience at the hospital, clinics and long-term care facilities. Kinnard already worked for CMH before starting the apprenticeship program and saw the program as an opportunity to work at other facilities and help facilitate a transition into another department.
"There are better opportunities to network and possibly slide into a position in any given department," Kinnard said.
Erin Mock, director of nursing education at BTC, worked with CMH staff to develop the program that she says is "out-of-the-box thinking and like no other." Apprentices are offered a variety of clinical experiences within the same health care organization that provides additional training and support to enhance their comfort level and increase their success as they transition to practice.
"When a student learns the people and the culture of the organization, they are truly able to improve each clinical day and at every patient contact because they are not concerned about trying to find things or learn new policies from week to week," Mock said. "This makes better nursing students and, therefore, better graduate nurses. By creating the solid foundation these clinical opportunities provide, we are better serving the community by creating well-prepared graduate nurses ready to bridge the gap between academic and professional practice without pause."
As an apprentice, CMH pays student nurses while completing clinical hours, and students are eligible to work shifts in a long-term care facility or the hospital. The students agree to work for CMH after the apprenticeship.
"For some of our students, the opportunity for this income is life-changing as it allows them to focus on learning to become a nurse while easing some other their financial burden," Mock said. "I am delighted that hospital administrators are dedicated to finding collaborative solutions to health care issues. It truly is remarkable to work with leaders within CMH as it is a culture of doing the right thing and putting people first."
Nine students in the Associate of Science in Nursing program at BTC are apprentices scheduled to graduate in May. CMH also has started the yearlong RN nurse residency program that provides additional training and support for licensed registered nurses with less than 12 months of experience. The first cohort began in June 2022.
For more information about LPN/RN nurse apprenticeships, call 417-328-7233.
Photo caption: Adam Kinnard, Rachael Hargus, Taylor Townsend and Chanceler Pemberton are the first cohort of nursing students from Bolivar Technical College to complete LPN nurse apprenticeships at Citizens Memorial Hospital.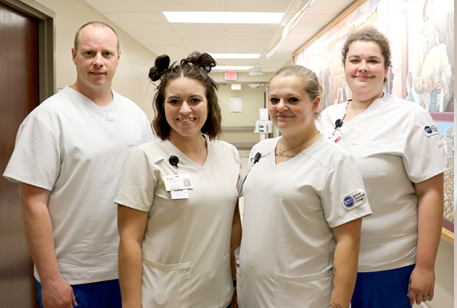 CMH nurse apprenticeship students