FOR IMMEDIATE RELEASE
Cody Allison, RN named March 2022 DAISY Award for Extraordinary Nurses winner
Cody Allison, a registered nurse with Citizens Memorial Hospital's Medical/Surgical Unit, was named the March 2022 CMH DAISY Award for Extraordinary Nurses winner.
FOR THE MEDIA
Contacts:
Tamera Heitz-Peek
417-328-7245
theitz@citizensmemorial.com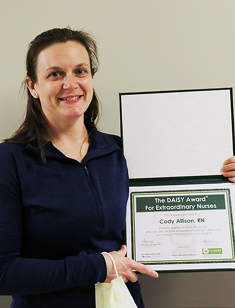 Allison earned her nursing degree in 2005 from Cox College, Springfield, and has worked for CMH since graduation. Most recently she has worked in the Medical/Surgical Unit at CMH for the last 18 years. This is Allison's second time receiving the DAISY Award. She was also a CMH DAISY Award recipient in March 2019.
She was nominated for the DAISY Award by a patient for going above and beyond to help them feel at ease with a recent diagnosis, providing support and offering additional help even after this patient had been discharged from the hospital.
"Last fall, I was hospitalized and I don't remember much, but I remember Cody was there to offer love and support," the nomination stated. "I've struggled with my health since then. Cody has always maintained contact to ensure my health."
The nomination went on to explain how Allison provided support both during and after a hospital visit. "Last month, I needed an MRI. Cody met me in the waiting room and got on her knees and prayed with me for good results! …After my diagnosis of celiac disease, she's gone above and beyond to assist me. She has sent resources, recipes and, most importantly, support."
Allison was surprised to receive the DAISY Award a second time and said that it feels "pretty awesome and very humbling."
She tries to "meet people where they are at" so she can provide each patient with the best support and care possible.
Allison also praised her team in the Medical/Surgical Unit at CMH for their continued hard work and the close bond they all share from working together over the years. "These are people that I've been in the trenches with," she said
She credited the environment and bond the employees share as the reason why she likes working at CMH. "Everyone is your friend," she said. "It's like walking in on an episode of 'Cheers.' You come down the hall and the people you meet are like, 'Hey how are your kids?' or 'How was the ballgame?' Everyone is understanding, and the environment is just homey."
About the DAISY Award
DAISY is an acronym for Diseases Attacking the Immune System. The DAISY Award was established by the DAISY Foundation in memory of J. Patrick Barnes who died at 33 of Idiopathic Thrombocytopenia Purpura (ITP), an auto-immune disease.
The Barnes Family was awestruck by the clinical skills, caring and compassion of the nurses who cared for Barnes, so they created this international award
CMH implemented the DAISY Award program in January 2019 to recognize their own extraordinary nurses. Each month a CMH or Citizens Memorial Health Care Foundation nurse will be presented with this recognition.
If you or someone you know would like to submit a CMH DAISY Award nomination, go to: https://cmhbolivar.info/DAISY. For more information about the DAISY Award and Foundation, visit www.daisyfoundation.org
Photo: Cody Allison, RN, with Medical/Surgical Unit at CMH, is the recipient of the March 2022 CMH DAISY Award.
July 01, 2022
Hospital 417-326-6000
Infocenter 417-328-6010, or 1-888-328-6010
1500 North Oakland, Bolivar, Missouri 65613
© 2023 Citizens Memorial Healthcare