CMH Willard Rehabilitation Clinic ribbon cutting, open house set for Friday, July 8
Willard area residents are invited Friday, July 8, 2022, to attend the ribbon cutting ceremony and open house for CMH Willard Rehabilitation Clinic, 520 E. Jackson St., in Willard.
The 3,200 sq. ft. clinic will provide physical therapy services and is located across HWY 160 from CMH Willard Medical Center and Walk-in Clinic.
The ribbon cutting ceremony will be held at 9 a.m. with the open house following until 10 a.m. Guests will be able to tour the clinic, meet the staff and enjoy refreshments from The Hive.
The clinic will be open Monday-Friday, 8 a.m.-5 p.m. Physical therapist John Klass, DPT, will see patients at the Willard location and specializes in pre- and post-surgical care, sport injuries, orthopedics, low back pain, chronic pain and general rehabilitation.
Patients should call 417-761-6699 for more information or to schedule an appointment.
CMH Rehabilitation Services is owned and operated by Citizens Memorial Hospital and provides inpatient and outpatient adult and pediatric occupational, physical and speech therapy services with locations in Ash Grove, Bolivar, Buffalo, El Dorado Springs, Greenfield, Hermitage, Osceola, Pleasant Hope, Stockton and Willard, Missouri.
PHOTO: John Klass, DPT, will see patients at the new CMH Willard Rehabilitation Clinic.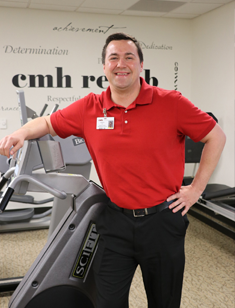 John Klass, DPT