CMH upgrades MRI equipment to latest technology
An increase in patient comfort and faster scans are some of the benefits of Citizens Memorial Hospital's upgraded Magnetic Resonance Imaging (MRI) machine. The Siemens Magnetom Altea magnet was delivered to the hospital Aug. 2, and went into service the week of Sept. 5. It replaced the previous MRI that's been in service for 18 years.
An MRI machine uses a large magnet and radio waves to produce detailed images of internal organs, bones, muscles and blood vessels. It is used to help diagnose diseases or injuries such as tumors, stroke, traumatic brain injury, spine injury, aneurysms, infection and more.
"This new unit is a great addition to our state-of-the-art imaging technology," said Gayla Hankins, MOL, RTR(M), director of radiology at CMH. "It will shorten exam times and greatly increase patients' comfort levels. A wider and shorter opening in the machine with special arm supports and positioning aids along with a new window in the MRI suite will make patients feel less claustrophobic and more comfortable."
One advantage of the new MRI is the turbo technology that enables up to 50% faster routine scans and increased image quality. "If a scan previously took about an hour, the new MRI scan time might be 30 to 40 minutes," says Hankins. "For people who can't lay still for long periods of time or for someone who has a serious injury, the time savings is critical."
The new MRI also uses BioMatrix technology and accommodates patients' anatomical and physiological differences to produce highly consistent results across all patient types and exams including neurological, orthopedic, abdominal and whole-body images.
"The MRI has special sensors so when the patient lies down on the MRI table, the machine will detect things like the patient's body type and pressure points. It also will sense the patient's breathing so patients won't have to hold their breath during parts of the scan," says Hankins.
Imaging and radiology services are available at the hospital and at CMH Breast Care Center and CMH Imaging Center both located in the Kerry & Synda Douglas Medical Center. Board-certified radiologists on staff include John Gamble III, M.D., Jana Horner, M.D., and Chad Potter, M.D.
CMH imaging provides accurate, comprehensive and timely diagnostic information. Imaging services include Computerized Tomography (CT) and Positron Emissions Tomography (PET) scans, obstetric ultrasound, mammography, digital X-ray, MRI, echocardiogram and bone densitometry. All images are stored electronically in a web-based picture archival communication system allowing images to be distributed securely throughout the facility within seconds.
For more information about imaging and radiology at CMH, call 417-328-6261.
Photo: Angela Deckard, lead MRI technologist, with the new Magnetom Altea MRI at CMH.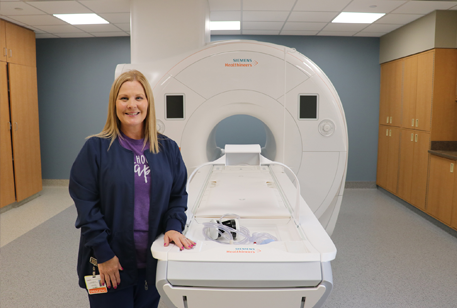 CMH staff, Angela Deckard, with MRI machine