CMH to hold Mental Health Awareness Walk Sept. 29
Citizens Memorial Hospital is hosting a Mental Health Awareness Walk, Thursday, Sept. 29, starting at 5 p.m. in the north parking lot of CMH, 1500 N. Oakland, Bolivar.
In addition to the walk, the event will include food trucks, mental health resource tables, demonstrations and a special tree lighting ceremony on the CMH Walking Trail adjacent to the north parking lot.
Participants and mental health awareness supporters are encouraged to purchase a commemorative T-shirt to raise awareness and support for the walk and National Suicide Awareness Month in September. Community members can purchase T-shirts by going to https://cmhbolivar.info/3Q6iiwG and T-shirts will also be available for purchase at the event. Donations will be accepted. Proceeds will benefit mental health support services at CMH.
Also available are car window decals and colored ribbons for the tree ceremony bringing awareness to suicide, mental health and substance use disorders.
Although the event starts at 5 p.m., participants can walk any time on the designated walking trail between 5-7 p.m. Demonstrations by local artist Cheryl Coen will be held 5:15-6 p.m. followed by music therapist Stephanie Bouldin from 6:15-6:55 p.m.
The purpose of the demonstrations is to connect people with local tools available for self-care and mental health. Studies show that expression through art and music can help with depression, anxiety, grief, loneliness and stress. Coen and Bouldin will demonstrate techniques and processes that can be healing and therapeutic.
The 30 minute tree lighting ceremony will begin at 7:30 p.m.
Food truck vendors will include Cheese Junkies, Custom Creations Food and Hibachi Ice Cream Co., and will be open from 5-7:30 p.m.
Mental Health Awareness Walk organizer Angela Long, director of CMH Parkview Wellness Unit, says most everyone knows someone who is impacted by suicide, mental health or substance use disorders.
"Suicide, mental health and substance use disorders can have a devastating impact on families and in a smaller community like Bolivar, almost everyone I meet says they personally know someone who has died by suicide or a drug overdose or knows someone with mental health concerns," says Long. "Through this event we want to bring a focus to mental health and provide resources to the community."
For more information about the Mental Health Awareness Walk, call 417-328-6708.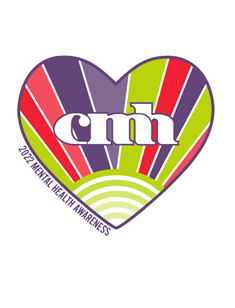 Mental Health Awareness T-shirt graphic - rainbow heart