FOR IMMEDIATE RELEASE
CMH honors Mincks and Truitt with Hutcheson Awards
Citizens Memorial Hospital recently recognized Auxiliary volunteers Emma Mincks and Jackie Truitt as recipients of the 2022 Lillian Hutcheson Award during the Auxiliary's quarterly meeting.
FOR THE MEDIA
Contacts:
Tamera Heitz-Peek
417-328-7245
theitz@citizensmemorial.com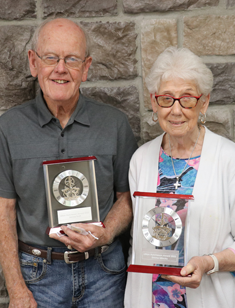 "Emma and Jackie are great examples of selfless individuals," said Shantelle Posten, CMH Auxiliary director. "They each show up numerous times a week to help our CMH patients, as well as our employees, in whatever capacity they can. We are so fortunate to have Emma and Jackie as part of our CMH family."
The Lillian Hutcheson Award is given each year to an outstanding volunteer who demonstrates commitment, dedication and compassion to patients, residents and the organization. It is named in honor of Lillian Hutcheson, who founded the Auxiliary program before CMH opened in 1982.
Mincks has been a volunteer for more than 16 years and serves as hostess on the CMH Auxiliary. She also is responsible for placing weekly flower orders for the gift shop and helps make the floral arrangements. She has given 2,595 hours to CMH.
Truitt has served CMH as a volunteer for 14 years. His volunteer career started as a shredder. Since the Douglas Medical Center opening, he has been a greeter there multiple times during the week. He has donated 4,516 hours to CMH.
For more information about joining the CMH Auxiliary, call Shantelle Posten, CMH Auxiliary director, at 417-328-6432.
Photo: Jackie Truitt (left) and Emma Mincks (right)
September 23, 2022
Hospital 417-326-6000
Infocenter 417-328-6010, or 1-888-328-6010
1500 North Oakland, Bolivar, Missouri 65613
© 2023 Citizens Memorial Healthcare