FOR IMMEDIATE RELEASE
CMH Dermatology Clinic ribbon-cutting, open house scheduled for Aug. 11
Bolivar-area residents are invited to attend a ribbon-cutting ceremony and open house for the CMH Dermatology Clinic from 3:30-4:30 p.m. Thursday, Aug. 11. The Clinic is located at 1125 N. Butterfield Road in Bolivar.
FOR THE MEDIA
Contacts:
Tamera Heitz-Peek
417-328-7245
theitz@citizensmemorial.com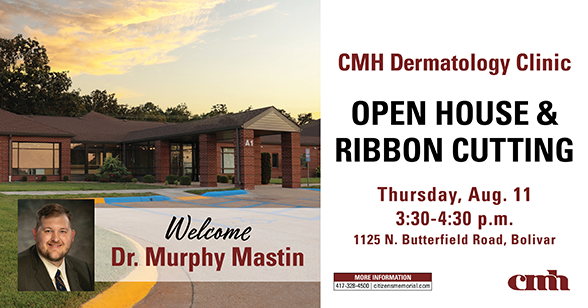 The ribbon-cutting ceremony will be held at 3:30 p.m. with the open house afterward until 4:30. Guests can tour the clinic, meet the medical staff and enjoy light refreshments.
The clinic opened to patients Aug. 1 with medical provider Murphy Mastin, M.D., who is board eligible with the American Board of Dermatology. Dr. Mastin completed his medical degree at the University of Missouri School of Medicine in Columbia and residency and internship at the Mayo Clinic School of Graduate Medical Education in Rochester, Minnesota.
Dr. Mastin's areas of practice include skin cancer and precancerous growth including melanoma; acne, warts and psoriasis; dermatopathology; cryosurgery; lesion removal; full body skin examinations; skin rashes in adults and children; benign and malignant skin lesions; allergic, photo-induced and pigmentary skin disorders; blistering skin diseases; skin infections; and cosmetics soft tissue fillers and injections.
The clinic is open 8 a.m.-5 p.m. Monday-Friday. Patients should call 417-328-4500 for more information or to schedule an appointment.
CMH operates 34 primary and specialty clinics in its eight-county service area.
August 02, 2022
Hospital 417-326-6000
Infocenter 417-328-6010, or 1-888-328-6010
1500 North Oakland, Bolivar, Missouri 65613
© 2023 Citizens Memorial Healthcare