CMH appoints new directors
Citizens Memorial Hospital/Citizens Memorial Health Care Foundation announces the appointment of Michelle Boehne and Steven Retherford as new directors.
Boehne is the administrative director of clinics. She has more than 15 years of health care experience in clinical operations and administrative capacities, most recently working as an accreditation adviser for a nationally recognized health care accreditation organization.
She has administrative oversight of CMH rural health clinics and specialty clinics, ensuring regulatory compliance and providing administrative support to clinic-based physicians. She has a bachelor's degree of business administration and a master's degree in health care administration.
Retherford is the director of facility design and construction. He has more than 30 years of architecture and facility design experience, spending the last six years working as a vice president of a leading general contracting firm where he specialized in health care-related construction projects and health care interior design.
Previously he served as the director of plant facilities at CMH for six years and returned to oversee internal construction projects and new facility design. Retherford has a bachelor's degree in architecture and is a licensed architect.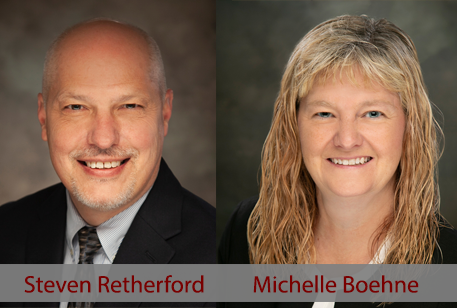 Steven Retherford and Michelle Boehne