CMH announces three DAISY Award winners
Three Citizens Memorial nurses were named DAISY Award winners. Sara Lipsey, RN, with CMH Infectious Disease Clinic, is the May 2022 recipient, Howard Cook, LPN, with Citizens Memorial Healthcare Facility is the June 2022 recipient, and Jordan McMillen, RN with CMH's Intensive Care Unit is the July 2022 recipient.
The DAISY Award is a recognition program for extraordinary nurses.
Sara Lipsey, RN
Lipsey earned her associate degree in nursing in 2013 from St. John's School of Nursing, Springfield and a bachelor's degree in nursing from Western Governors University. She worked as a labor and delivery nurse at a Springfield hospital for eight years before joining CMH Infectious Disease Clinic in August 2020.
Lipsey was nominated for the DAISY Award by another CMH nurse who cares for a mutual patient and the positive impact Lipsey has made on that patient's life.
The nomination stated: "Sara, thank you for providing beyond exceptional patient care! You and I have never met; however, we do have a patient who brings us together for patient care. Several times I have heard your voice over the phone while in this patient's presence. Your kindness, reassurance and patience have been observed and heard even without you being present physically. Sometimes patients can have severe anxieties and fears that cause them to say and do things that no one understands, but a nurse does. You are one of these great nurses, Sara. This particular patient has told me how great you are and speaks of you highly… You have made a difference in this patient's life by calling and checking on the patient and helping to reduce this person's fear and anxiety. Not only have you made a difference in the patient's life, you have also made a different in mine. Thank you for being a wonderful nurse!" 
Howard Cook, LPN
Cook earned his LPN license in 1975 and worked at numerous health care facilities before joining CMHCF in 1989. He has worked for CMH for 33 years, all at CMHCF, and is also the winner of the 2017 Missouri Health Care Association District IV Employee of the Year award.
Cook was nominated for the DAISY Award by a resident's family member for the dignity, respect and loving care he gave their grandmother.
The nomination stated: "Howard is the perfect example of what a nurse is. Without him and a handful of others, my grandmother wouldn't have had the care she deserved. Howard gave her dignity, respect, and loving care up until the funeral home came for her… [Howard] sets the standard."
Jordan McMillen, RN
McMillen earned his nursing degree in 2019 from Crowder College, Neosho, and soon after began working at CMH ICU in December 2019.
He was nominated for the DAISY Award by a patient's family member. "One of the last phone calls my husband and I had with her, she talked about how much comfort her nurse overnight had given her," the nomination stated. "She said that she could feel how intentionally gentle he was with her when she was in a lot pain."
The family member explained that the patient's husband still speaks about how wonderful McMillen was during her stay in the ICU. 
About the DAISY Award
DAISY is an acronym for Diseases Attacking the Immune System. The DAISY Award was established by the DAISY Foundation in memory of J. Patrick Barnes who died at 33 of Idiopathic Thrombocytopenia Purpura (ITP), an auto-immune disease.
The Barnes Family was awestruck by the clinical skills, caring and compassion of the nurses who cared for Barnes, so they created this international award to say thank you to nurses everywhere.
CMH implemented the DAISY Award program in January 2019 to recognize their own extraordinary nurses. Each month a CMH or Citizens Memorial Health Care Foundation nurse will be presented with this recognition.
If you or someone you know would like to submit a CMH DAISY Award nomination, go to: https://cmhbolivar.info/DAISY. For more information about the DAISY Award and Foundation, visit www.daisyfoundation.org
Photos: Sara Lipsey, RN, with CMH Infectious Disease Clinic, is the recipient of the May 2022 CMH DAISY Award. Howard Cook, LPN, with Citizens Memorial Healthcare Facility, is the recipient of the June 2022 CMH DAISY Award. Jordan McMillen, RN, with CMH Intensive Care Unit, is the recipient of the July 2022 CMH DAISY Award.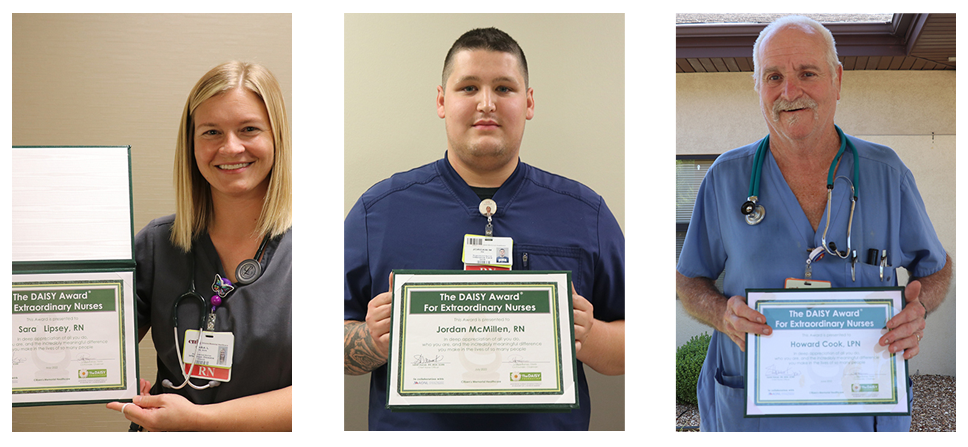 DAISY Award winners Sara Lipsey, RN, Jordan McMillen, RN, and Howard Cook, LPN