Bravata and Hall take on new roles at CMH
Citizens Memorial Hospital/Citizens Memorial Health Care Foundation announces the appointment of Christina Bravata and Wren Hall with new director positions within the organization.
Bravata is the director of grants management. She has worked at CMH since 2017 as the program manager of CMH Addiction Recovery. Bravata helped secure $1.85 million in state and federal grant funding to increase personnel and services throughout CMH. In her new role, she is developing a grants department at CMH to bring more resources and services to the communities CMH serves
Before working at CMH, Bravata worked as a nurse education program developer between local hospitals and universities in the Bronx, New York, area. She has a bachelor's degree in international business.
Hall is the director of community relations and development. Formerly the director of community relations, she will continue to coordinate event planning and also will focus on elevating the organization's culture of philanthropic support through donor engagement.
Hall has worked at CMH since 2007 and has 23 years of health care experience in public relations, communications and donor relations. She has a bachelor's degree in communication.
For more information about CMH, visit citizensmemorial.com.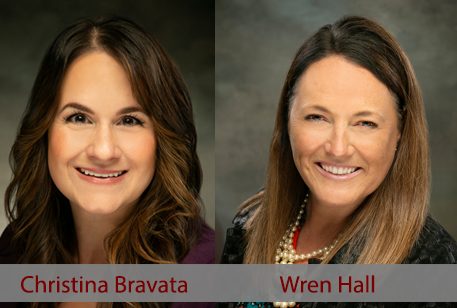 Christina Bravata & Wren Hall